Toby has drawn influence from a wide group of people, thoughts, and experiences.  This page provides a running list of the sources that may also influence your thoughts and efforts.
Periodically the page will expand with new items as well as direct links to Amazon or other source material.
Books
1.  The Modern Firm: Organizational Design for Performance and Growth by John Roberts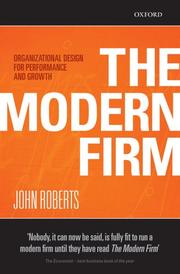 Brief:  The most fundamental responsibility of a general manager is to craft strategy and design an organization where the strategy can succeed within the economic, political, legal, regulatory, social, and the technological environment the firm operates.  A direct challenge to the design is finding alignment within the environment.
The right strategy or design is an ongoing process of adjustment as the environment changes, as the strategy develops, and as the organization evolves.
Table of Contents:
Strategy and Organization
Key Concepts for Organization Design
The Nature and Purpose of the Firm
Organization for Performance
Organizing for Growth and Innovation
Creating the Modern Firm:  Management and Leadership Challenges
More on the influence of The Modern Firm.
Coming: