This page shares a current set of books I draw organization talent, change, and leadership thoughts.  The range is wide, from history and economics through business writing.  Each book has a direct Amazon Associates link for further details.
Here are books, as of May 2013, in play.  I invite your thoughts on these reads:
1 of 3 — Appreciative Leadership
Appreciative Inquiry is on a short-list of prime influences for my management, relationship, facilitation, change management, and organization behavior work.
I have written blogs on Appreciative Inquiry, but I find the constant default to deficit-based diagnostics and problem-solving relationships leaves me in a place where I might need to recharge the portion of me that looks where things are correct, magnify people modeling what works, and shine a light where interactions model possibility.
I've read Diana Whitney repeatedly as a source for Appreciative Inquiry from the start and this book was a logical addition.
Business assets appreciate when leaders appreciate.  This is a route to sustainable results.  Leadership is not a title given, leadership is a competency observed by others.  Leadership comes from all levels.
2 of 3 — Trust Agents
In 2008 I was lucky to live in Kenmore Square, Cambridge, MA.  Firstly, Cambridge is a great city to live in, both as a single person and with a family – just a great quality of life.
Secondly, 2 streets away from where I lived was a company, called HubSpot, that was really coming on the social media scene.  What makes HubSpot fantastic is commitment to free service and free education to any and all willing and wanting to learn about search engine optimization, Web 2.0, social media marketing, and search engine marketing, and the tools, insights, and principles bubbling around the social media scene.
Luck, as well, that through the HubSpot team I was introduced to the thinkers and pioneers in the field, all approachable all evangelists for transparency and all willing to share any discovery they made with you.  I discovered reading Seth Godin and David Meerman Scott HubSpot their 2008 Inbound Marketing Summit, from HubSpot I met and learned from and around:
An incredible community … and HubSpot threw some great parties at their office and where they also filmed HubSpot.tv live.
So, the book, anyway, Chris Brogan is a trust agent, absolutely.  Want to know what a trust agent is, the book he wrote with Julien Smith is a great introduction to what it takes to become a trust agent and to build and maintain trust agent bona fides.
Who should read this?  Anyone dabbling in social media, as either a hobbyist or a contributor for a non-profit, volunteer organization, business, or community.
You can also take a look at my Learning Timeline for Community, Social Media, and Persona Design for other sources.
3 of 3 — Yes to the Mess: Surprising Leadership Lessons from Jazz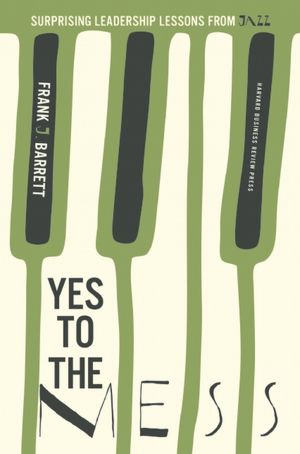 Frank Barrett, is an active jazz pianist leading trios and quartets as well as touring the United States, England, and Mexico with the Tommy Dorsey Orchestra.
Frank Barrett, Ph.D. is an Associate Professor of Management and Organizational Behavior at the Naval Post Graduate school and has written and lectured on social constructionism, appreciative inquiry, organizational change, and jazz improvisation and organizational learning.
I have seen him lecture on Miles Davis as a leader, jazz and improvisation and the combination towards organizational change and organizational development.  I paraphrase from the book's lead in:
How do you cope when faced with complexity and constant change at work? Here's what the world's best leaders and teams do: they improvise. They invent novel responses and take calculated risks without a scripted plan or a safety net that guarantees specific outcomes. They negotiate with each other as they proceed, and they don't dwell on mistakes or stifle each other's ideas.

This is exactly what great jazz musicians do.

In this book Frank Barrett shows how this improvisational "jazz mind-set" and the skills that go along with it are essential for effective leadership today and draws insights and innovations of jazz greats such as Miles Davis and Sonny Rollins.
Frank Barrett also taught and certified me in multiple levels of Appreciative Inquiry, along with his contemporary and colleague David Cooperrider.  I have had the pleasure co-facilitating his Miles Davis and "Kind of Blue" leadership lessons and been a participant in other lectures.
Frank is a great person, a great presenter, and a great guide.  Yes to the Mess just came out in August and I look forward to share the journey.  Here is one of his papers Creativity and Improvisation in Jazz and Organizations: Implications for Organizational Learning.pdf
Recently finished books
The eReader Experience
I read multiple books at once because I jump from insight to insight and rarely find the mood to just stick with a single topic.  I might read a chapter 2 or 3 times, just to let the idea sink in or germinate through a blog.
I am enthusiastic about Amazon Kindle and the rich ability to store, view, retrieve, and print highlights with your Amazon profile, and to view highlights with others.
I highlight and take a lot of notes. The Amazon Kindle DX 9.7 inch screen is my weapon of choice.  Also, the Kindle app let's you read on other tablets, computers, or smart phones and keep your library and notes synched.